The Goenka family own India's third largest hyper-market, Spencer's which sells everything from food and electronics, to apparel, books and music. The Goenkas wanted to add a private fashion label for India's growing upper-middle class to that list of goods --something that many of their direct competitors had done successfully. Several attempts at establishing this private fashion label were unsuccessful, so the Goenkas turned to some of the most successful consulting firms around in order to identify the problem.
Together, the Goenkas and the consulting firms they had hired went about gathering information. Mall intercepts, shadowing customers in-store and customer surveys were among the tactics that they employed. From this data the Goenka family concluded that the thing holding back a private fashion label sold at Spencer's was the proliferation of foreign brands in India. In order to compete with these foreign brands, a well-known British fashion designer was brought in to create a line of clothing that would appeal to Spencer's target market. To the surprise of everyone involved, this venture was also unable to meet with success. After multiple failed attempts, and even taking the advice of leading consulting firms, the secret sauce that would make Spencer's clothing line a success was still a mystery.
Brain Mustard began the task of solving that mystery by scanning the internet for millions of Indian consumers' comments about clothing and fashion. From this data Brain Mustard used a social influence map to identify numerous micro-segments within Spencer's target market. Moreover, Brain Mustard figured out the cognitive associations that each of these micro-segments had to various types of clothing. This work led to a thorough understanding of why Indians purchase certain clothes and what factors they consider when shopping for clothes. The complex dynamics between different socio-economic groups, what caused these groups to associate or dissociate from one another, and how aspirational actors behave were all brought to light.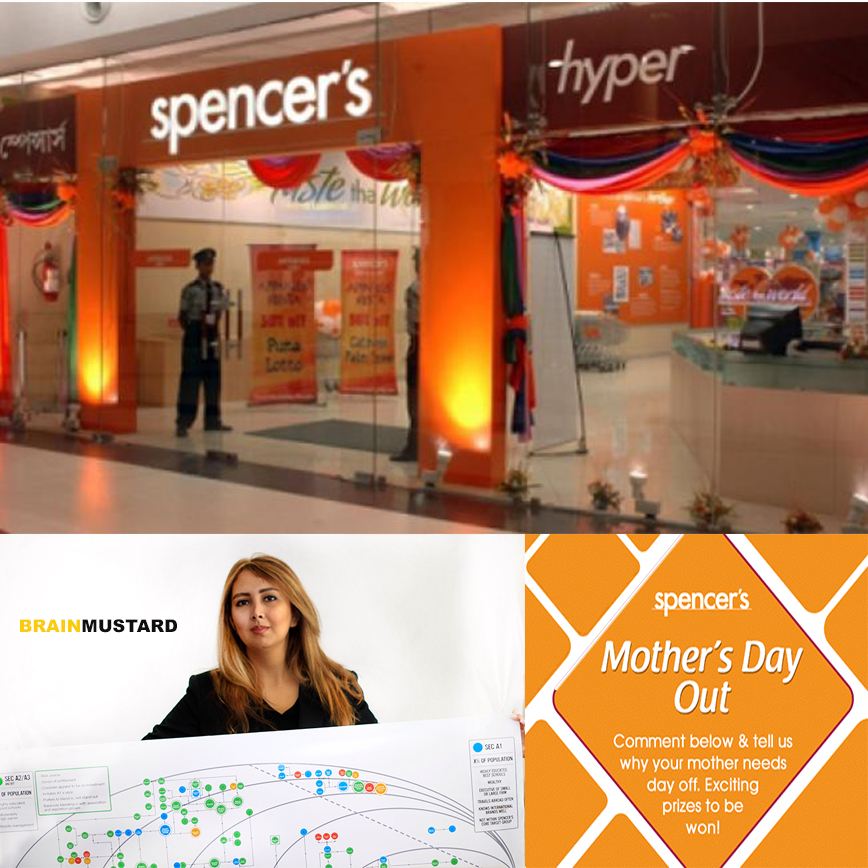 For example, contrary to what Bollywood films would have you believe, professionals in India do not want to dress in flashy clothes. Over dressing runs many social risks. Superiors may ridicule or feel threatened by an over-dressing underling. Those who try to out-dress their peers also risk being alienated. Given this delicate social structure, Brain Musard recommended designing a clothing line that sits above mid-tier clothing labels, but the difference in quality and style had to be subtle. Spencer's private fashion label had to strike a delicate balance between high-quality and refinement, and a quiet confidence that would not alienate peers or attract the wrong kind of attention.
The Social Influence Map enabled Spencer's to identify the key social drivers to establishing a successful private label.
Brain Mustard and Spencer's jointly developed a clear and detailed strategy for a new private clothing label. This approach considered both individuals' decision making factors and the social aspects of those decisions. Brain Mustard helped to engineer a new in-store experience for Spencer's that is devoid of mental and social barriers. A thorough understanding of its customers, and how their decision making is affected by social dynamics, enabled Spencer's to create a private clothing label and in-store design that saw higher sales per square-foot than its immediate competitors only a few months after launching.
---
---
If you would like to see a demo of our interactive customer experience maps or just want to see whether our solutions are right for your company, please contact us. We love to brainstorm with you.
---
More Success Stories:
---